iDNES: Growers won't get rich on coffee, investors will.
Published by: 18.10.2022 11:30:20
For some, morning or afternoon coffee is an essential part of life, for others it is an investment opportunity and a return on investment. How to invest in coffee, what influences its price and when it is a speculation is explained in the commentary by investment specialist Erik Kmet.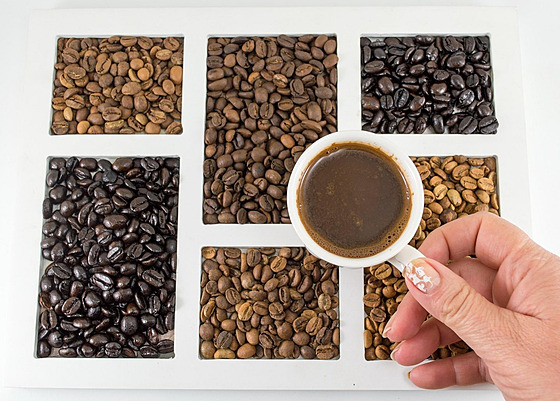 illustrative image | photo: Profimedia.cz
Coffee production is a big industry for one reason: its consumption is a truly universal affair. Globally, people consume 2.3 million cups of coffee every minute. By total sales volume, coffee is the fourth most consumed beverage in the world.
Coffee is a commodity and investing in commodities is not that simple. With coffee, it makes a difference whether you invest in coffee beans or coffee futures, which is an indirect investment in the price of coffee.
I think that ordinary Czechs do not perceive investing in coffee in a significant way yet, on the other hand, there are progressive or dynamic investors who like to dive into new things.
It's the type of investor who enters the market, takes their 5% on price movement and exits the market. These are more short-term trades that use, for example, technical analysis or market fundamentals, i.e. financial market analysis with price prediction. Such as the depreciation of the Brazilian real, a change in coffee stocks or weather changes.
Coffee, meanwhile, is a publicly traded commodity on exchanges in the form of a futures contract. It is traded in pounds and one contract is £37,500.
For most contracts there is no physical delivery. Contracts are terminated before the delivery date or are extended to the next contract. Price is mainly influenced by weather and geopolitics in the major countries, the Brazilian real and US dollar, energy prices and developments in emerging markets.
You can invest in coffee directly and indirectly
I wouldn't consider coffee a pure investment, however. In most cases when investing directly in coffee, I would call it as speculation. Investors buy LONG and SHORT. In LONG trading, they are betting that the price of the contracts will rise and they will profit on the principle of buy low, sell high. A SHORT trader is betting on the price to fall and hoping to make a profit. So it's exactly the opposite principle of a long trade.
A direct investment can be a Coffee ETF, a coffee futures contract or financial products that have coffee as the underlying asset. Another option is to buy directly shares of companies such as Starbucks, Nestlé, Luckin coffee.
Tradable shares of coffee companies
Shares
Symbol
Currency
Starbucks
SBUX
USD
J.M.Smucker Co.
BMI
USD
Nestlé
SA AQUA
USD
Restaurant Brands International Inc
KSB
EUR
Luckin Coffee
LNN
USD
Farmer Brothers Company
PNR
USD
Whitewave Foods Company
PCYO
EUR
Tata Coffee
TATACOFFE
USD
Dunkin' Brands Group
DNKN
USD
JDE Peet's
HERE
EUR
Source:FXstreet. cz
Coffee price affected by recession fears
Pricing coffee, measuring and averaging the global industry is a complex test. World coffee prices fluctuate constantly, but each country also has differences in availability, relative costs and the final price of the finished product. The price of coffee has recently fallen, as demand has been affected by fears of how bad the recession will be (Kurzy.cz: coffee price on October 10, 2022 = 216.37 US cents per pound, ed. note)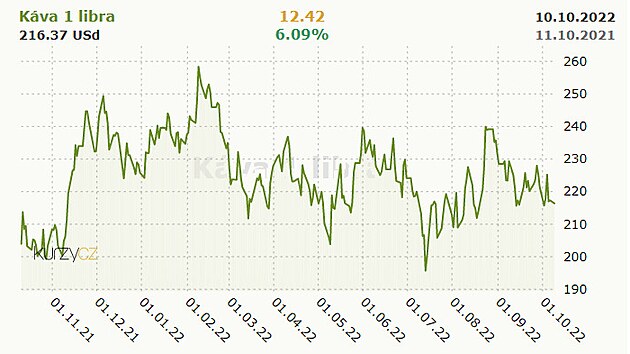 World coffee prices have been fluctuating steadily, while on February 9, 2022, a pound of coffee was trading at 258.35 US cents per pound, on October 10, 2022, the price of a pound of coffee fell to 216.37 US cents per pound.
Growers aren't exactly making a lot of money on green coffee beans. Because prices fluctuate constantly from year to year, they can range from less than 50 US cents per pound of coffee, as they were in 2001, to more than 310 in 2011, to today's 210 US cents per pound.
In a comparison of who stands to make more, growers or futures traders, businessmen will be much better off. Their profits would swing over 100 per cent on a trade that opened in 2020. Whereas the growers' margins are very low and hence they will take only a very small part of a price movement of over 100 per cent. This leaves some growers living on the poverty line.
Coffee consumption is increasing
Coffee is grown in more than 70 countries. Brazil is by far the largest producer and exporter of coffee, with Vietnam being the only other country accounting for a double-digit percentage of global production. Overall, 60% of global coffee production comes from four countries - apart from Brazil and Vietnam, the next largest producers are Colombia and Indonesia.
In the meantime, coffee consumption is steadily increasing. From 1970 to 2015, annual production doubled to 8.7 million tonnes. Producers consume 30 percent of the total production and the other 70 percent is traded. The largest importers of coffee are the USA, Germany and Italy.
The fact that coffee is grown also contributes to the budgets of developing countries, and there are about 50 of them. Especially in developing countries, it contributes to the creation of new jobs and is also of great economic importance because of the profits from exports.
Author: investment specialist Erik Kmet's for iDNES.cz
Source: https://www.idnes.cz/finance/investovani/kava-investice-obchodnici-pestitele-cena-spekulace.A221011_075505_inv_sov
All materials and information on the K&L Rock website are drawn from publicly available sources and are for informational purposes only. Every care has been taken in their creation. The information published on K&L Rock's website is in no way intended to be legal, tax or investment advice, analysis or suggestions or offers to buy or sell investment instruments, the implementation of which may result in the loss of all invested assets. The investment recommendations so indicated are for informational purposes only and are not binding. In no event shall K&L Rock be liable for any damages that may arise in connection therewith. Therefore, only use companies licensed by the CNB or with a valid permit to operate in the Czech Republic for trading in investment instruments.

K&L Rock also declares that it is not liable for any direct or indirect damage resulting from trading on the capital markets in general, and posts in discussions expressing the views of readers may not be in line with the operator's position and therefore cannot be regarded as its views.