Finmag: Flats in smaller towns are worthwhile.
Published by: 10.11.2022 12:30:36
They are planning to start the first project in Světlá nad Sázavou soon and then they are preparing for the next one. The co-founders of the investment group K&L Rock, Erik Kmet'a and Jan Lobo, have discovered the magic of regional property development. Why do they think it makes sense to focus on smaller towns and how the current situation may affect investors and the development market?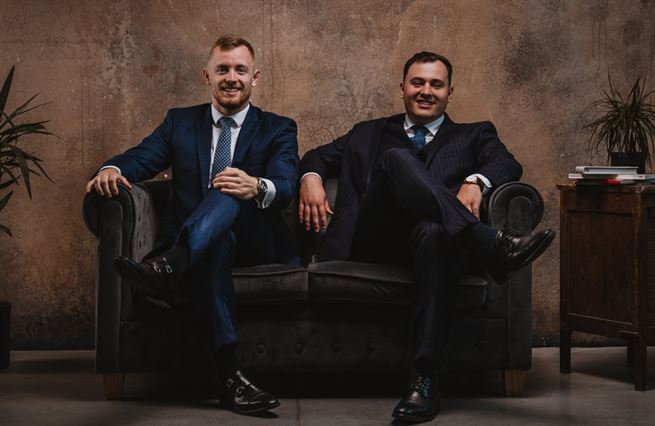 K&L Rock's principals and co-founders, Erik Kmet and Jan Lobo
Source:K&L Rock Group
With K&L Rock, you're mainly focused on regional development. You are starting your first projects in Světlá nad Sázavou. Why there?

Lobo: I come from Havlíčkův Brod, which is less than twenty kilometres from Světlá. I know a lot of people there, which played a bit of a role. Moreover, preparation and construction takes half, maybe even a third of the time in smaller towns when compared to Prague or other big cities. In a capital city, it only takes five to ten years to prepare. We bought our first plot of land in Světlá at the beginning of 2021 and now we are before the building permit is issued. City management or building authorities in smaller towns are more accommodating to developers. They are happy that something will be built there.
It's just that in smaller cities you have to sell new homes much cheaper.
Lobo: Selling prices are obviously lower. But in recent years, property prices have risen to the point where new construction is already paying off almost everywhere in the country. It used to be impossible, but at today's prices of between 50,000 and 60,000 crowns per square metre it works out financially. If you find a suitable regional contractor, you can reduce costs. Let's have twenty completed projects left behind rather than one in ten years. Prague is the best in the real estate market, with the biggest players competing. But as a new company we don't want to get into it yet, maybe in time. But in Světlá we will already be seen as a big developer, we have the potential to build 160 flats there within ten years.
In which cities does it still make sense to build?
Lobo: Cities of around 50,000 people have great potential. For example Jihlava. There is a lack of housing construction. And young people are going to Prague because the improvement of the standard of living in smaller cities is stagnating. They can't buy an apartment in their own city, there aren't enough jobs for them. I think it's a pity. The Vysočina region has huge potential, it is strategically well located. Once the high-speed railway line is built between Prague and Brno, you will be in both cities in fifty minutes.
It's probably going to take a while. Can we just build apartments in Svetla and expect people to stay there?"
Kmet: Look at it the other way around. Building new apartments can attract investors. They'll know they can find the workforce there. People from smaller towns often go to Prague to work, but then find that the cost of living, like rent, is too high. If they had housing in small towns, they might stay there.
Lobo: There is a triangle of Humpolec, Havlíčkův Brod, Světlá nad Sázavou. These towns are twenty or thirty minutes away from each other by car. It's a common distance in Prague. It often happens that people from Světlá buy new flats in Brod because there is almost nothing to buy in Světlá. And then they commute to work in Světlá by car.
There are cases where the developer was counting on a thirty percent margin. But because of the increase in price, his costs have risen by forty or fifty percent.
How will the cooling mortgage market and high mortgage rates affect your plans
Kmet: We will complete the first project in two years. We expect that by then the repayments will be lower. However, we will start offering apartments as soon as we obtain a building permit, which is sometime early next year. We do not need to rush the sale. Some investors from our fund have booked investment apartments in Světlá. And thanks to this, we will reach the 30 percent pre-sale rate that banks require for loan processing.
Lobo: Again, there is a big difference between Prague and smaller cities. In Světlá, our 2-bedroom apartment will cost up to CZK 3 million, in Prague it can be up to CZK 8 million. This means that a young family will pay 400 to 500 thousand a year in interest alone. In Světlá, they can often put down money on the apartment with their parents and buy it without a mortgage. It can be more profitable for investors, too, thanks to the better rent-to-purchase price ratio. In other words, seventy percent of buyers in Prague finance the purchase of an apartment with a mortgage. In Světlá, we expect sixty per cent to pay cash, whether it is a person buying an apartment for investment or a client who will live there themselves.
And how does the current situation affect developers?
Lobo: The biggest problem may be the projects that are currently under construction. There are cases where the developer was counting on a thirty percent margin. But his costs have risen by forty or fifty percent because of the price of building materials and labour and higher interest rates. But now he has little choice. Just for the sake of his reputation - and that of the bank that lent him the money - he has to finish it. In most cases, people have bought it, taken out mortgages. We expect that because of more expensive mortgages, there will be pressure for developers to make new construction cheaper.
Kmet: We don't expect it to be long-term. If interest rates in the Czech Republic peak at current levels and inflation can be tamed, I believe the development environment will be in better shape in about a year. We don't expect a significant drop in prices either. It will be easier for developers in some ways. My point is that once building material prices stabilize, there will no longer be room for general contractors to speculate on how to "stretch" a developer. A few years ago, contractors could almost dictate the amounts they would build for. And it was an uncertain time for developers. But things are now returning to normal. For example, the price of construction lumber is back to 2018 to 2020 levels.
Equity markets have seen sharp declines this year. Any advice on how to navigate the market?
Kmet: We don't advise! But the problem is not just with stocks. It's also much bigger in government bonds, which affect economies. For those, we are at the lowest numbers in many decades. Recently, the Bank of England had to step in to keep the whole market from collapsing. There may be a similar problem in the US and elsewhere. The bear market will be here for a while, but the companies reporting their results now are not doing badly. And they are finally at interesting valuations. The declines are healthy. And past ones have always managed to catch up in the US market, even the "covid" one. We've broken the highs after every downturn. Plus, it's a fast time. And investors and the market are holding the largest amount of cash in history.
What does it mean?
Kmet: It brings momentum to markets, stock indexes reacting with bigger moves to, say, US inflation data. And low prices are encouraging this momentum even more. We are prepared for downturns. We don't operate by just buying stocks, holding them and waiting for their value to rise. We also use day trades, with about thirty percent of the portfolio. We also create automated trading systems. We also try to make money on movements in the volatility index or emission allowances. We are targeting a return of twelve per cent, and have been able to deliver on our promise to clients over the past two years. And we expect this year to be similar.
The first fund is sixty per cent real estate, the rest is stock markets. Going forward, we plan to split it up more.
So where do you see opportunities in the stock market?
Kmet: I would look for classic value titles that can potentially resist a recession better than growth ones. We believe in the growth of the US market. In the fund, we refrain from picking specific stocks; we take it sector by sector. Or we buy stock indices and various ETFs. We assume that few portfolio managers will outperform the S&P 500. I don't think we can continuously outperform the index by stock picking. At today's prices, we can build a decent portfolio that we can hedge appropriately in the event of further declines. I'd rather use the time saved to actively trade. For him, we focus on anything where there is reasonable activity. It's three to four instruments that we focus on for a long time and analyse in detail. We have to have good data that takes into account fundamental analysis or market depth.
You have a fund for qualified investors that combines investments in real estate development with investments in the markets. What do you plan to do next?
Lobo: The fund targets investors who are investing larger sums of money. Alongside this, we have also offered standard bonds. It is the most common investment instrument in the Czech Republic. And we want to reach retail investors with it. We have closed one bond issue and we are preparing another one. It will focus mainly on development.
Kmet: We are also preparing another fund, we want to target similar appreciation, but we are considering adjusting the composition a bit. Sixty per cent of the first fund is real estate, the rest is stock markets. In the future, we plan to split it up more. We want to move the fund more towards investing in the markets, while we would like to raise money for development through bonds. Bonds are cheaper in cost than the fund.
Lobo: However, our current focus is on development so that we can start building in Svetla as soon as possible.
The text was published as part of the investment special of Finmag magazine and its website Finmag.cz Billions in Motion, of which K&L Rock Group is a partner.
Source: here
All materials and information on the K&L Rock website are drawn from publicly available sources and are for informational purposes only. Every care has been taken in their creation. The information published on K&L Rock's website is in no way intended to be legal, tax or investment advice, analysis or suggestions or offers to buy or sell investment instruments, the implementation of which may result in the loss of all invested assets. The investment recommendations so indicated are for informational purposes only and are not binding. In no event shall K&L Rock be liable for any damages that may arise in connection therewith. Therefore, only use companies licensed by the CNB or with a valid permit to operate in the Czech Republic for trading in investment instruments.

K&L Rock also declares that it is not liable for any direct or indirect damage resulting from trading on the capital markets in general, and posts in discussions expressing the views of readers may not be in line with the operator's position and therefore cannot be regarded as its views.