Erik Kmet's comment on the Czech National Bank's rate hike for Roklen24
Published by: 23.06.2022 09:45:21
"Although many analysts talk mainly about imported inflation, it seems to me, looking at the statistical data, that a substantial part of the growth in the price level is generated by domestic demand. While energy prices have risen in the Czech Republic at a roughly similar rate to other countries, the rate of increase in services is among the highest in the EU. From this perspective, further interest rate hikes by the CNB make sense and should work over time.
An increase in base interest rates will also have an impact on the real estate market. The central bank's decision will, among other things, reinforce the trend of recent weeks and months, when the number of houses, flats and development projects for sale is increasing. A number of companies and smaller private owners have simply run out of money to finance construction and such cases will increase. At the same time, not only new mortgages will become more expensive, but also existing ones. After refixing, monthly repayments can rise to double the original amount. The rate of growth in property prices will thus slow down due to high interest rates, and in some locations and for some types of property we are likely to see price stagnation or even a slight decline. This will correct the level of overvaluation of property prices, which according to the CNB was as high as 40% in the Czech Republic.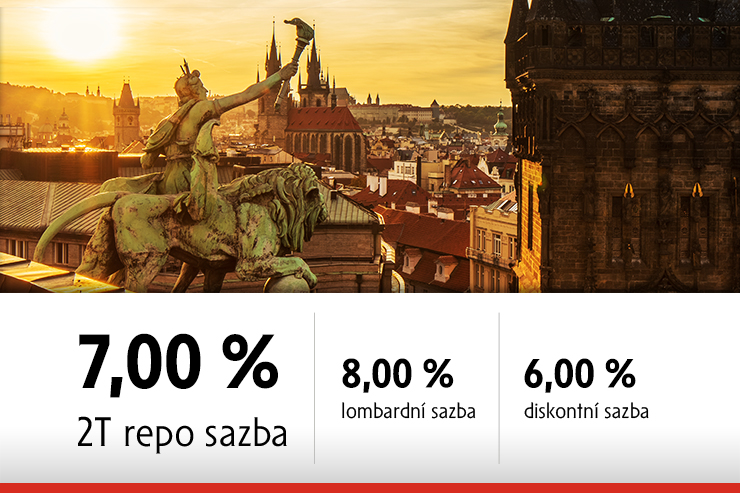 In addition to loans, banks will also gradually raise interest rates on savings accounts and term deposits, but this will be a cosmetic adjustment given the inflation rate. If people want to preserve at least some of the purchasing power of their savings, they will not be able to do without investing. In this respect, however, I recommend continued caution; partial declines in riskier assets such as equities may continue to occur at least until the end of the year. We in our fund, however, are gradually moving from a prudent to a neutral stance and will gradually start to build up our equity positions again. We know from the past, however, that market declines usually only end definitively when central banks stop raising interest rates."
Find the full article here
Source: https://roklen24.cz/prave-se-stalo/odbornici-komentuji-zvyseni-sazeb-ceskou-narodni-bankou/
All materials and information on the K&L Rock website are drawn from publicly available sources and are for informational purposes only. Every care has been taken in their creation. The information published on K&L Rock's website is in no way intended to be legal, tax or investment advice, analysis or suggestions or offers to buy or sell investment instruments, the implementation of which may result in the loss of all invested assets. The investment recommendations so indicated are for informational purposes only and are not binding. In no event shall K&L Rock be liable for any damages that may arise in connection therewith. Therefore, only use companies licensed by the CNB or with a valid permit to operate in the Czech Republic for trading in investment instruments.

K&L Rock also declares that it is not liable for any direct or indirect damage resulting from trading on the capital markets in general, and posts in discussions expressing the views of readers may not be in line with the operator's position and therefore cannot be regarded as its views.